On the afternoon of November 29, 2019, Hubei Christian Council held the ordination for the Southeast Region of Hubei Province in Xianning CC&TSPM's affiliated church, the Center Church.
Rev. Zhu Zhiguo, chairman of Hubei TSPM and president of Zhongnan Seminary, Rev. Hu Kaiming, president of Hubei CC, Rev. Ding Jianghua, vice president and general secretary of Hubei CC, vice chairman and secretary general of Hubei TSPM, Rev. Gong Gangchun, chairman of Xianning TSPM and Rev. Mao Yao, president of Xianning CC formed a group of pastors for ordination.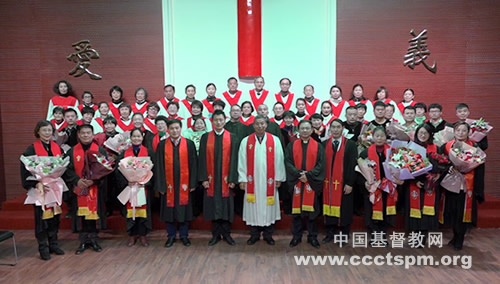 The 15 newly-ordained clergies included 6 pastors: Fu Min (female), Xiong Jinhu, Zhai Shujuan (female), Chen Xuexia (female), Song Yifen (female), Jiang Junfang (female), and 9 Elders: Xiong Anxin (female), Liu Fengxian, Sheng Yongzhong, Liang Shoubin, Ai Enming (female), Xu Shengying (female), Zhao Yuling (female), Wang Shulian (female), He Lanying (female).
On behalf of the newly-ordained clergies, Rev. Zhai Shujuan made a speech during the ordination. She first gave thanks to God for His mercy and choosing His servants for this ordination. She also appreciated the prayers and support from senior pastors, staff members, brothers, sisters, and families. Rev. Zhai said that she would serve more humbly, and work with senior pastors and staff members with one accord in reviving the church of the Lord.