On June 22, 2020, Jilin CC&TSPM offered subsidies to grass-root pastoral staff who lead a hard life due to the Covid-19, and delivered a greeting letter to all pastoral staff and believers in Jilin Province.
Considering the need of epidemic prevention and control, and the recent rebound of the virus outbreak, the question of when to reopen churches is still up in the air. To help those grass-root clergies affected by the virus, Jilin CC&TSPM has raised money and decided to subsidize them each 5000 CNY.
Jilin CC&TSPM has set a special fund for the living of poor clergies and makes donations to this project annually. These years it not only has helped improve the livelihood of several poor clergies, but also has helped stabilize the grass-root pastoral team.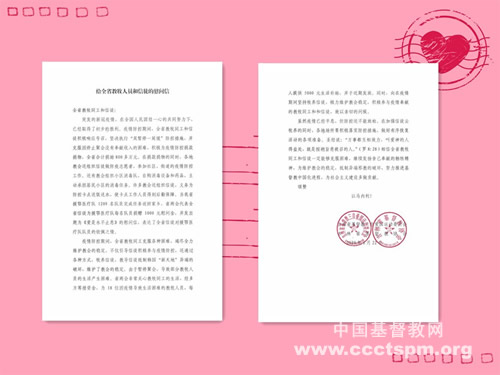 Aside from the subsidizes, Jilin CC&TSPM also sent a greeting letter to all clergies and believers in the province. In the letter, it said that all pastoral staff and church members have been making efforts in overcoming sorts of difficulties during this time, to guide believers to participant in the virus prevention and control, shepherd and teach them via multiple ways resisting against heresies and safeguarding the church.
Meanwhile, it also delivered cordial greetings to all clergies, church members and believers who have been keeping on shepherding believers and actively playing their part in this fight against virus. The letter also said that although the hardest time has passed, efforts of prevention and control should not be loosened, and relevant measures should be proactively implemented. Preparations also should be made for the resumption of church services in an orderly manner.
(Translated and edited by Bei Sang)