On the morning of November 2, 2021, CCC&TSPM joined a virtual meeting with Dallas Theological Seminary, Insight for Living and Bible Study Fellowship. Chairperson of National TSPM Rev. Xu Xiaohong and President of CCC Rev. Wu Wei attended the meeting. Rev. Kan Baoping, vice chairperson of National TSPM, hosted the meeting.
In the meeting, Rev. Xu Xiaohong reminisced about the interaction between CCC&TSPM and Dallas Theological Seminary, Insight for Living and Bible Study Fellowship over the past decade or so. He said that even though churches around the world had taken a battering due to the Covid-19 pandemic, we, as a community of shared destiny shall partner with one another to combat the virus.
A majority of local churches in China now resumed onsite worship services, so did several foreign language services in Shanghai. We felt grateful for these, but we also saw adverse impact caused by the pandemic, especially an economic blow to countries. We shall believe in His Sovereignty, as "the Lord sits enthroned over the flood." (Ps. 29:10) Let us pray for all churches and wish that the pandemic would end soon to bring people's life back to normal.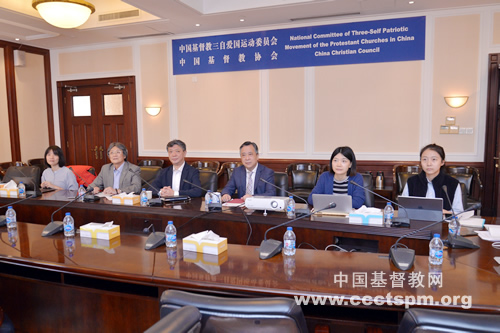 Rev. Wu Wei said that no matter where we are, we all have faith in the one and only God who extends grace to each and one of us. We shall know and understand that misery is the testing of faith. During this time, we can practice our love in misery and learn to pray and rely on God, allowing the faith to enter our life.
Afterwards, Rev. Wu Wei introduced the basic situation of the Church in China, along with how the pandemic had affected the churches in China and their anti-virus measures. He also mentioned a number of things that the Church in China has been doing and will continue to do, including the Indigenization and Contextualization of Christianity in China, running the church in accordance with laws and regulations, and Christian talent cultivation. He also underlined the significance of the Three-self Patriotic Movement, the Reconstruction of Theological Thinking and the Indigenization and Contextualization of Christianity to the churches in China.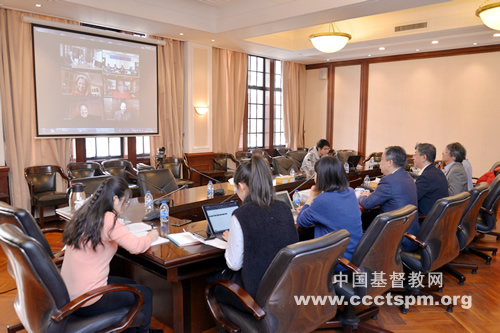 Tom Hayes, chief international officer of Insight for Living, agreed with Rev. Wu Wei on implementing faith in people's lives. He said that at this moment their ministries focus on preaching biblical truth in an accurate and steadfast manner and training international pastors and ministers to make the gospel expressed locally.
Joshua Winn, executive assistant to the President of Dallas Theological Seminary, shared his contemplation on theological education and their new strategies. Mrs. Susie Rowan and Mrs. Hollie Robers, respectively the former and incumbent executive director of Bible Study Fellowship, shared the update of their online Bible study ministry.
All attendees expressed their gratitude and cherished this virtual meeting, and hoped to have face-to-face communication and in-depth exchanges soon.
Ms. Gu Jingqin, interim director of the Overseas Relations Department of CCC&TSPM, and other staff members also participated in the virtual meeting.
Translated and edited by Bei Sang.