On the morning of February 25, 2022, CCC&TSPM and China Partner jointly had a virtual meeting. Attendees included Rev. Shen Xuebin, Vice President of CCC, Ms. Gu Jingqin, the Interim Chief of Overseas Relations Department of CCC&TSPM, and etc.
In his speech, Rev. Shen Xuebin mentioned the long-lasting relationship between the two sides. Although mutual visits are suspended due to the COVID-19, we still care for each other in greetings and pray for each other with blessings. He hoped that the friendship established by our predecessors would last and the two sides could continue to pray and support each other. Rev. Shen also shared the ministries by Chinese churches during the coronavirus pandemic.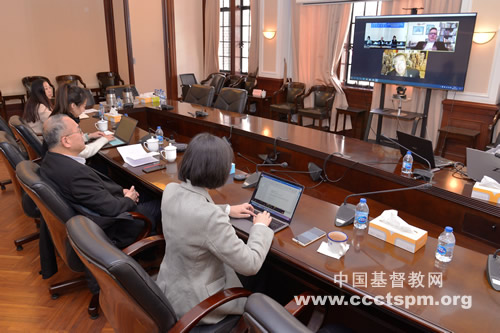 On behalf of China Partner, the President Erik Burklin gave blessings to the church in China, and congratulated the success of winter Olympic games recently held in Beijing. He also extended gratitude for the regards from CCC&TSPM's president and chairperson, with whom they exchanged via messages during the pandemic time. Rev. Erik Burklin said that China Partner would continue to respect the Three-Self Principles, disseminate good stories of Chinese churches, and he also hoped to maintain the partnership with CCC&TSPM in the future as brothers and sisters in the Lord.
The two sides gave blessings to each other and expressed the eagerness to restart mutual visits when the pandemic was over.
Translated and edited by Bei Sang