On the morning of March 31, 2023, an assembly of people with grateful smiley faces joyfully celebrated the dedication of the Gospel Church in Xindu District of Chengdu City, Sichuan Province. Over 500 participants attended the event, including Rev. Zhang Xiansheng, President of Sichuan CC, Rev. Zhang Jian, Residential Vice Chairperson of Sichuan TSPM and Vice President & General Secretary of Sichuan CC, faculty and student representatives of Sichuan Theological Seminary, as well as church staff and believers from Chengdu TSPM and different parts of Chengdu.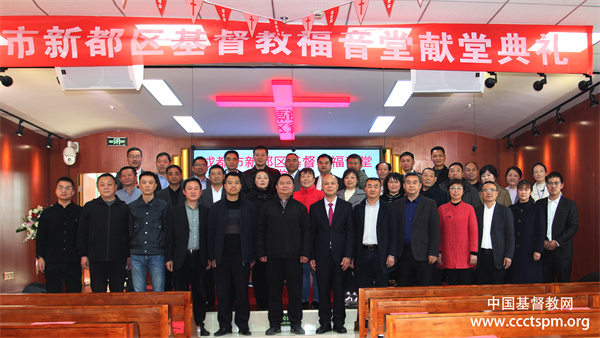 During the dedication, Preacher Shangguan Zongmao, the director of the Gospel Church's Church Management Committee, reviewed the history of the development of Christianity in Xindu District and the process of buying the church building. He felt grateful for the grace of God and appreciated the care and support of the local authorities. Rev. Zhang Xiansheng said that the opening of the new church manifested not only the care and blessing of God, but also the faith of all church members.
The dedication and thanksgiving service was led by Preacher Shangguan Zongmao. Rev. Du Xiaolin from Chongguang Church of Dujiangyan City and Rev. Zhong Lin from Pengzhou Church offered prayers. The church union choir sang hymns. Rev. Zhao Gang, Vice Chairperson and Vice President of Sichuan CC&TSPM, and Vice Chairperson of Chengdu TSPM, read the Scripture. Rev. Zhang Xiansheng shared the verses from Haggai 2:1-9. The ceremony ended with the benediction given by Rev. Bai Rongfa, Vice Chairperson of Chengdu TSPM and Director of Shangxiang Church.
Translated and edited by Bei Feng, Tian Tian.