On the morning of September 8, 2023, CCC&TSPM received a four-person delegation from China Partner (CP) led by CP President Rev. Erik Burklin. Rev. Wu Wei, President of CCC, warmly welcomed the guests and held a meeting with them. Ms. Gu Jingqin, the interim chief of Overseas Relations Department of CCC&TSPM, together with other staff partook the reception. In the meeting, both sides mentioned cooperation and friendship, shared graceful testimonies and expressed the willingness to maintain mutual support in the future to respond to God's blessing with even more beautiful testimonies.
Rev. Wu Wei introduced the development of the Church in China in recent years to the CP delegation. With the changing times, challenges have arisen in church pastoral care, theological education, talent cultivation, etc., and responsive measures have been taken as well. Rev. Wu underlined the ongoing highlight of the ministry -- the Chinanization of the Christian Church in China, and explained its basic contents, implications and goals. He also mentioned that we made our churches adaptable to our society without compromising our faith in order to give our own witness as Chinese Christians. Rev. Wu said that CCC&TSPM and CP have maintained a long friendship, because of the mutual respect and deep understanding between each other. We gave thanks to God for binding us together.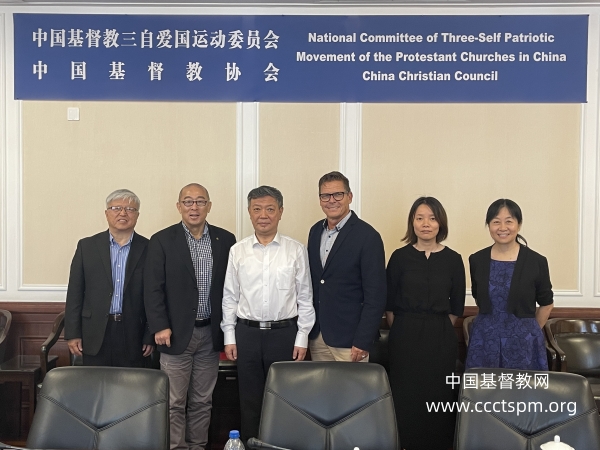 CP President Rev. Erik Burklin said that their deep relationship with China has spanned generations. Working with Chinese fellow workers and interacting with local churches and seminaries allowed them to know the Church in China and to do their part in serving the churches in this country. It was pleased to witness the fast-changing progress over the past few decades in China. CP would respect the Three-Self Principles as always, help the international community better know Chinese churches, and continue to offer support and assistance to the church ministry in China.
China Partner was founded in 1989 by Dr. Werner Burklin, who was born in China to German missionary parents.
Translated and edited by Bei Feng.