On the morning of October 12, 2023, Fujian CC&TSPM conducted an ordination ceremony at the Chengguan Church in Jianyang District, Nanping City. Fifty-one fellow workers were ordained as pastors. Representatives of ministers and fellow workers, believers and family members from all parts of the province came to witness this sacred moment.
Rev. Yue Qinghua, Chairperson of Fujian TSPM, officiated the ceremony and Rev. Zhang Jiyou, Residential Vice President of Fujian CC, hosted the service. The choir from Chengguan church performed "Learn To Be A Good Shepherd".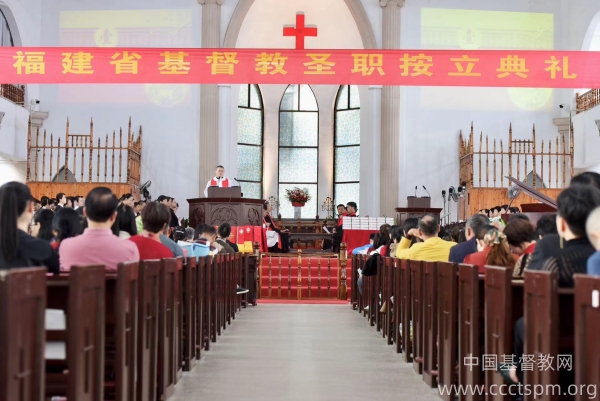 Rev. Lin Delai, Vice President and General Secretary of Fujian CC, quoted 2 Corinthians 12:2-10 and gave a sermon titled "To Be Capable Servants". He exhorted all the newly-ordained ministers to have the heavenly vision in mind, remember the Lord's sufficient grace, shoulder the duty of this era resolutely and bravely, and depend on His grace and renew in service.
During the ordination ceremony, Rev. Yue Qinghua questioned the ordinands to affirm their ordination vows in front of the congregation. The ordination group performed the laying on of hands and bestowed stoles and Bibles upon them.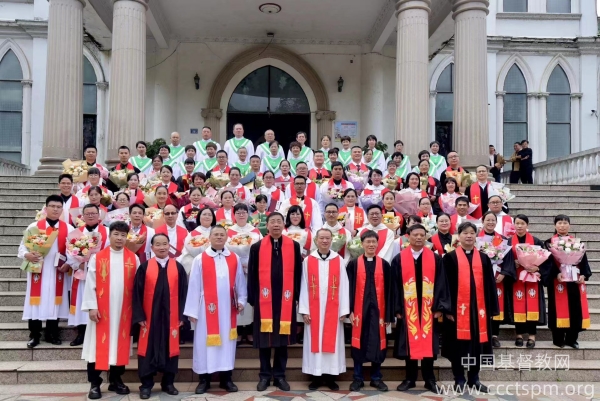 Then a benediction was given by Rev. Yue Qinghua to round off the ordination ceremony.
Translated and edited by Bei Feng.