There were over tens of thousands of ethnic minorities living on Mount Gaoligong in Mangkuan County, Longyang District, Baoshan City. This place is barren and of severe living condition, where the people living there suffer from poverty. However, since 2017, local government began to arrange accommodations to relocate these residents. So far, there are 989 households moving into their new homes.
On the occasion of the coming Spring Festival, China Christian Council and national committee of Three-self Patriotic Movement (CCC&TSPM) and Baoshan CC&TSPM prepared supplies for these migrant households and sent care and the New Year greetings to them, ensuring that they can have a warm and comfortable Spring Festival.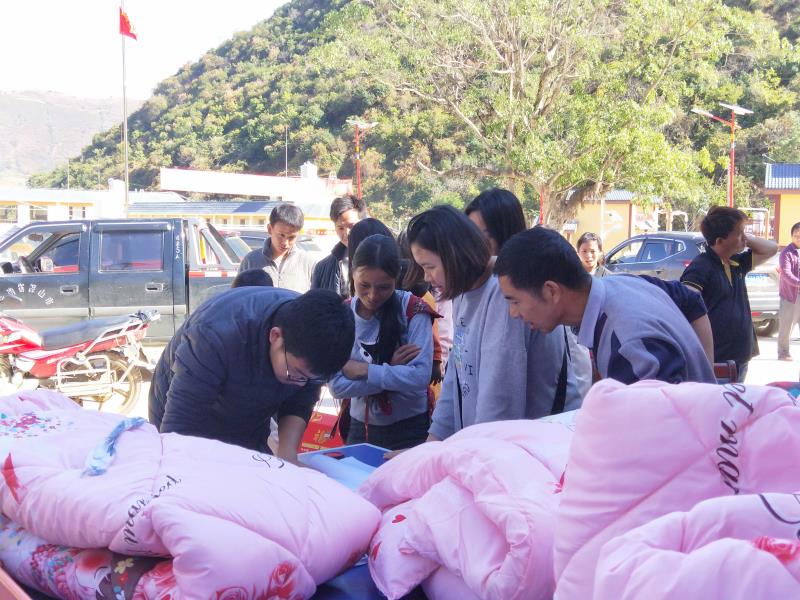 From 27th January to 2nd February, staff members participating in this activity were sent to 7 migrant resettlement points distributing supplies. Each of the 989 households receives a barrel of cooking oil and a quilt.
One villager said: "even though we have moved down from the mountain and live in the new accommodation, we are still facing various difficulties.
The lacking in quilts turns out to be a problem for the children who are growing in the family. We have a big family with 4 adults and 6 children. When we lived on the mountain, the elderly needed a quilt. Another 2 adults shared a quilt with 2 children, and the other four children shared one quilt.
Also, we had to sleep in thick clothes to keep warm at night. For now, we have moved into a new home with several rooms. Children who want to sleep alone have no quilts.
We feel thankful for your timely assistance and we are very much delighted and grateful to receive your supplies that help us solve the quilt problem."
Supported by Social Service Department of CCC&TSPM, Baoshan CC&TSPM successfully completed this mission.
In the future, Baoshan CC&TSPM is committed to launch more projects including free clinic, delivery assistance, skills training, visiting and caring left-behind children and so forth. It serves the purposes of being light and salt and helping residents of Mount Gaoligong shake off poverty and lead a well-off life.