Chengdu Enguang Church is a 110-year-old church in Chengdu. It used to be a church for Canadian Methodist Mission. The present church building is 80-year-old, which is the oldest church in Chengdu.
The church has 3 priests, 1 full-time preacher, 5 part-time preachers and 100 volunteers. There are two services on Saturday and two services on Sunday. Each congregation has 800-1000 attenders. About 200 people get baptized in the church each year.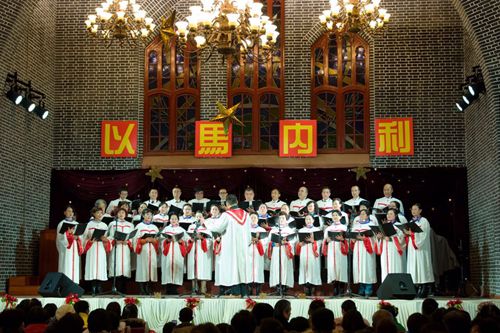 The church has RCIA (The Rite of Christian Initiation of Adults), elder fellowship, youth fellowship, reading group, prayer group, choir, Bible study group which is held activities on weekdays serving to meet needs of believers.
The church also make efforts in social service. For example, many believers who happen to be doctors go to villages to offer free medical care to patients there. Additionally, the church has donated 110 thousand RMB to poor students and patients diagnosed as leukemia.
Services: Sunday 9∶30a.m., 14∶00p.m.
Saturday 9∶30a.m., 19∶00p.m.
Adress: No.17 North Sishengci Street, Chengdu, Sichuan, China
Tel: 028-86784598