On May 30, 2007, Beijing Haidian Church opened in Zhongguancun (also known as China's Silicon Valley). Two of China's top universities, Tsinghua University and Peking University, are nearby this new church. Over 7000 people come to the church on Sundays.
The church holds Bible reading group, witness group, elder group and so on. It is a place of attraction for many state chiefs, government heads and religious leaders from foreign countries, such as the former Holland president, Jan Peter Balkenende; the former United States Secretary of State, Hillary Clinton. Many believers from other provinces in China also come to Haidian Church to attend the Sunday service.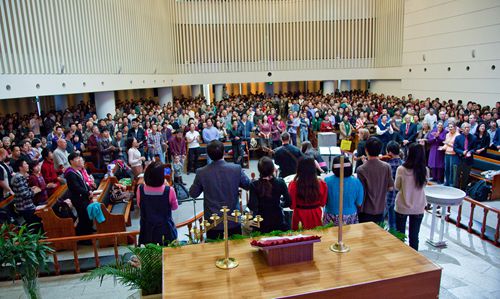 The church has fifteen priests and preachers, and 12 full-time staff. There are also over 1000 volunteers, who takes responsible for choir, reception, internet, and propagation.
The church encourages believers to serve the society. It organizes church members to pay regular visit to nursing homes and orphanage, helping the church in impoverished, mountainous area, and subsidies needy students in Beijing.
Services: Sunday 7∶00a.m., 8∶30a.m., 10∶00a.m., 11∶30(English)a.m., 14∶00p.m.
Address: No. 9, Caihefang Road, Haidian District, Beijing, China
Tel: 010-62572391