History: Founded in 1916, Hunan Bible School was formerly known as Hunan Bible College. In the early stage of the War of Resistance Against Japanese Aggression (1937), it was temporarily used as the site of the National Provisional University in Changsha (an associated university merged from three prestigious universities including Peking University, Tsinghua University, and Nankai University). Later, it was used as the Wartime Wounded Soldier Care Center and the training center for the War of Resistance's guerrilla cadres during the cooperation between the Communist Party and Kuomintang. The college had been merged since 1950.
In 1990, due to the need of talent cultivation for churches, Hunan CC&TSPM decided to reopen Hunan Bible School, offering a pilot one-year Theological Study course, which was cross-carried out with a three-month training course. In 2002, it launched the two-year junior college program in theology. In 2006, it began to offer a pilot three-year college program; and in 2008, it was upgraded to a secondary religious college with both three-year and four-year programs.
Leadership: Rev. Xu Yongbin serves as the current president and Dr. Wang Wenjun as the vice president.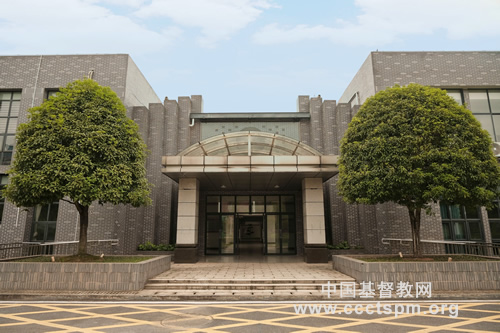 Curriculum: The curriculum consists of general courses and specialized courses. With the focuses on characteristic courses, such as preaching training and pastoral practice, the school offers a number of new courses in recent years, including "Personal Growth and Spiritual Formation", "Discipleship and Fellowship", "Hermeneutics and Homiletics", "Introduction to a Theological Life", "Ethics of Service and Pastoral Relationships" and so forth.
Faculty: There are 13 full-time faculty members, including one Th. D., one doctorate candidate in Theology, one M.Div., one postgraduate student of Pastoral Studies, six in-service postgraduate students, and two dual-degree holders. All nine guest teachers teach general courses, such as Chinese History, Chinese Culture, Psychology, Marriage and Family, English, Piano, Mandarin and Speech, etc.
Book collection: The library of the Bible school owns a collection of more than 26,000 paper books, and it has 200 English books.
Students and Graduates: Currently, there are more than 30 on-campus students, and a total of more than 1,180 graduates.