On 5th September, 2018, a group of 43 people from Malaysia Bible Society, including Mr. Kua Wee Seng of the United Bible Societies who accompanied the delegation, came to visit CCC&TSPM. Rev. Shan Weixiang, Vice-President of China Christian Council (CCC) received the delegation and presented to them the development of the Church in China and church ministries.
Rev. Shan Weixiang, on behalf of CCC&TSPM, expressed welcome to the delegation. He rendered a brief presentation on the transformation of the fast-growing church in China since the end of 1970s. He also mentioned the challenges that church is confronted with regarding pastoral care and the spiritual life of believers.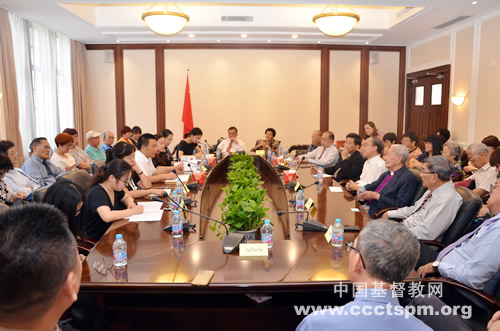 A staff from the Media Department of CCC&TSPM made brief introduction to the Bible distribution of the church in China. She pointed out that providing various Bible versions and ensuring a stable supply can help satisfy the demands of believers from different levels. There are, however, challenges caused by the popularity of e-books and the rising cost of printing paper.
Members from the Social Service Department and the Theological Education Department shared with the delegation the work and projects they had carried out. Rev. Shan also discussed with the delegation about the issues they are concerned about.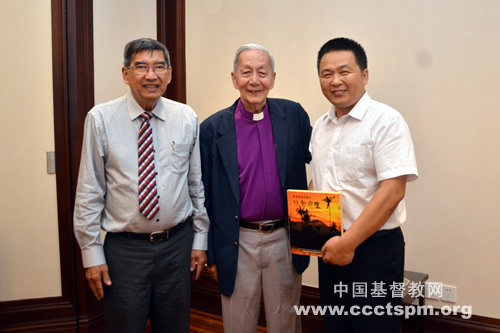 Mr. Yong Chen Fah, archdeacon of Sabah, Malaysia, said that this visit marked the beginning of the collaboration between China and Malaysia. He hoped that they will continue to communicate with the Church in China, deepen their understanding of Bible ministry in China, and promote the friendship and cooperation between churches in both countries. He also praised the Church in China for its efforts in Bible printing and this visit was indeed aimed for them to have an exposure to the Bible printing in China. Other members of the delegation said that this visit had been very fruitful. Previously, their knowledge about China was limited, but after this trip they had gained a more comprehensive and in-depth understanding of the Church in China and its ministry.
At the end of the meeting, two sides exchanged gifts and group photos were taken.