On 22nd January 2019, Chinese Service Group of Shenhua Church held a meeting to review the work in 2018 and discuss the ministries to be carried out in the new year. All 170 church staff and members attended the meeting.
As the first church which reopened the service in Yanbian in the 1980s, Yanji Shenhua Church especially set up Chinese service for Han ethnic brothers and sisters. It aims at satisfying the spiritual needs of Han believers as well as allowing Korean believers to learn Chinese. Currently, the Chinese service has five pastors, preachers and church staff and members in total, along with nearly 1200 believers. It offers five services on Sundays and has become an influential Chinese gathering point in Yanbian Korean ethnic autonomous prefecture.
All church staff and members watched video materials together regarding the past year and recalled God's gracious guiding. Through reviewing, all further made the determination of flourishing gospel and serving people, and were encouraged to work even much harder in every way. In faith, follow the biblical teaching; in the society, actively practice core socialist values; in family, live the Christian's life as a testimony.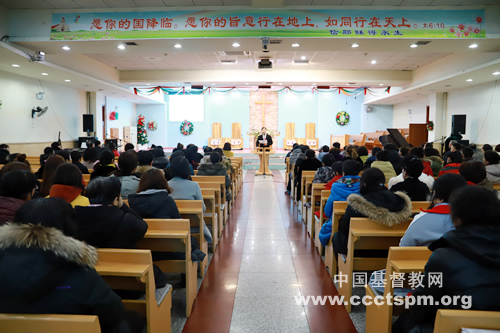 There was a retirement ceremony for 5 choir members who are over 60 and 8 deacons who are over 70. Although they were to retire from the church, they said there is no retirement for the ministries of being light and salt, offering assistance to other staff members wherever there is a need to serve and devotedly fulfill personal responsibilities. Chinese service group prepared gifts for these people, encouraged and appraised them with words on the gifts, saying "Serve the Lord faithfully; sacrifice on the front line; glory be to God; rewards come down from the Heaven".
Rev. Jin Zhenghong, leader of Chinese service group gave an explanation on the ministry plan. On top of completing the two-year-term group leader mechanism, Chinese service group has 16 deacons as the new blood of the serving team to ensure the vitality and vigor. She also encouraged staff members to care and support believers, especially for those who are suffering from illness and spiritually weak, and help them according to their spiritual and material needs.
Rev. Liu Doufeng, senior pastor of Shenhua Church in Yanji City, gave a sermon, from which he mentioned the goals of the church in the new year are to work hard on practicing Biblical teaching, becoming the real "light and salt on the earth", and "building the Ark" as the main ministry; to have faith in Jesus Christ ensuring the healthy and orderly development of the church and become the positive force of promoting national solidarity and social harmony.
At last, Rev. Jin Zhenghong urged all church members to take the lead in shouldering the duty and responsibility of the new era, through abiding by laws and disciplines when doing church activities, strengthening believers' legal consciousness to voluntarily resist heresies. Since Yanbian City is the forefront of resisting foreign infiltration, it is necessary to work hard on pastoral care, organize activities themed after "love country and love church", strengthen the sense of recognition on our country and nation and contribute to territory stability and harmony between different ethnicities.