On June 17, 2019, Rev. Xu Xiaohong, chairman of National TSPM received faculty members of Shaanxi Bible School at CCC&TSPM headquarters.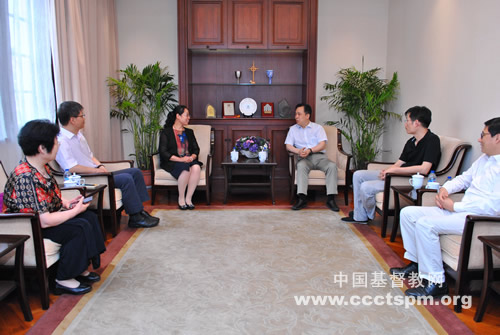 Rev. Wang Hong, president of Shaanxi Bible School introduced the bible school's development over the past three decades in the aspects of teaching resources, library resources, graduates and school accommodation, etc.
Mr. Hai Jianyu, director of Institutional Center of Shaanxi Committee for Ethnic and Religious Affairs, shared the basic situation of the religious colleges, exchanged ideas regarding the topics of the formulation of theological education, etc.
Rev. Xu Xiaohong extended warm welcome to the bible school's faculty members. Rev. Xu pointed out that CCC&TSPM is making efforts in promoting the indigenization and contextualization of Christianity in China, the kernel of which is the reconstruction of theological thinking.
Reconstructing theological thinking is closely tied with theological seminaries, which are the cradle of talent cultivation. Hence, it is necessary to work hard in all ways and keep in mind that cultivating talent is the key. Meanwhile, it is also important to pay attention to the echelon building and current talent use.
After the meeting, faculty members of Shaanxi Bible School were shown around the CCC&TSPM's patriotic education base.
Mr. Gu Mengfei, secretary general of National TSPM participated in the reception.