The fifth trainings for bilingual preachers in ethnic minority areas had its closing ceremony on August 30, 2019.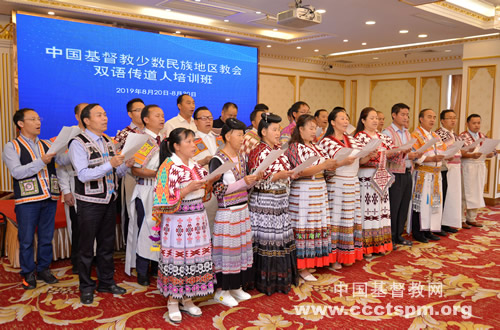 At 8:30 a.m., ethnic minority trainees of Zhuang, Miao, Yi and Lisu performed hymns including Pray For China and Amazing Grace, etc. in both Mandarin and their ethnic minority languages.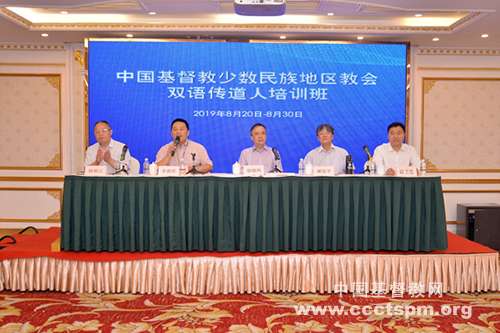 The closing ceremony officially kicked off at 9 o'clock in the morning. Rev. Shan Weixiang, vice president and general secretary of China Christian Council (CCC) hosted the ceremony.
Rev. Xu Xiaohong, chairman of National TSPM, Rev. Kan Baoping, the Vice, Rev. Geng Weizhong, president of Shanghai Christian Council, Rev. Yang Chaoyun, president and chairman of Guizhou CC&TSPM addressed the closing ceremony.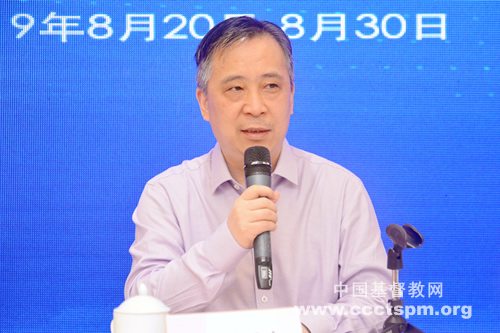 A few words of exhortation were given by Rev. Xu Xiaohong. He told the trainees to hold on to their faith, firmly follow the Three-self patriotic principles and constantly stick to the path of indigenizing and contextualizing Christianity in China; serve churches and neighbors in making their live harmoniously together, be law-abiding in running churches and responsible for guarding in the border areas of the country; take root in the excellent Chinese traditional culture, manifest the love of Christianity in public welfares and social services so as to help develop culture identification and social recognition; be supportive among ethnic minority preachers and build churches in strong solidarity.
He also encouraged them, saying "you should increase your love and knowledge of many kinds". He said that living in the informative era allows them to constantly acquire knowledge and also requires them to improve their capability of distinguishing, and wished the trainees to be filled of witnesses and better at church ministries when serving in the future.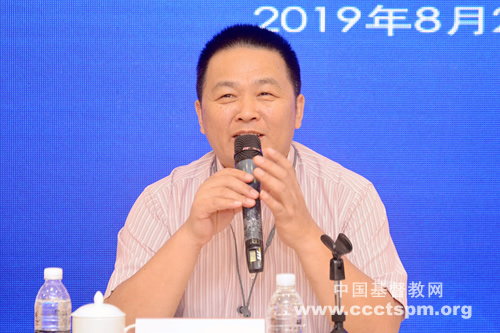 Rev. Shan Weixiang concluded features and achievements of the overall five terms of trainings: facilitating the solidarity among ethnic minorities groups, broadening the ways that CCC&TSPM could serve ethnic minorities churches, and strengthening the collaboration between churches in ethnic minority areas and coastal cities; helping ethnic minority pastors and staff members deepen their understanding of the indigenization and contextualization of Christianity in China, increasing their confidence in running the church well based upon the Three-self principles and fighting against infiltration, and boosting the faith in serving.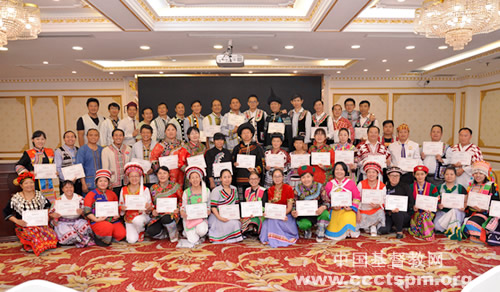 At the closing ceremony, representative of the trainees reviewed the highlights of the trainings and expressed the gratefulness. Some saw the training curriculums as well-arranged, rich and practical in content, which could be of great assistance to their grass-root serving.
Some said they cherished the moments for such trainings. Attending the consecutive five years of trainings held in five different cities allow participants to increase their knowledge and help broaden their horizon.
At last, the trainings for bilingual preachers in ethnic minority areas ended up with the blessing by Rev. Kan Baoping. All attendees sang together and gave blessings to one another.