On February 1, 2020, CCC&TSPM received a letter from Hong Kong Bible Society which expressed the care and concern for their compatriots of the mainland especially in Wuhan City, Hubei Province. On the letter, it said that "we are a family that shares the woe together...may the omnipotent God be merciful to cure the disease and protect the medical personnel...and bestow blessings to the land of our Chinese people!"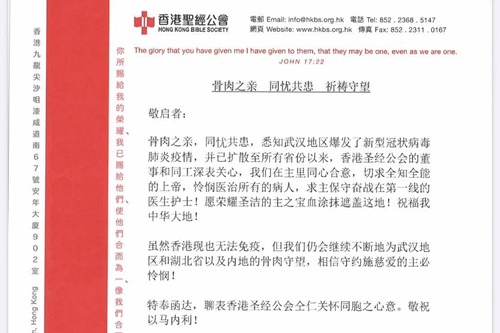 Hong Kong Christian Council also appealed to the churches in Hong Kong praying for the afflicted in the pandemic in the mainland of China, Hong Kong, Macao, Taiwan along with other areas.
General Secretary of World Council of Churches (WCC) said, "We stay with Chinese people and pray for them to defeat the virus and fear. We also are particular in honour of those infected people and their families, as well as the hardworking medical personnel."
The International Ministries of the American Baptist Church, the United Church of Canada and many churches in North America also took actions at the first place, and raised funds and medical supplies for Wuhan via their websites and social networking websites.