From January 4 to 5, 2021, Guangdong Huizhou CC&TSPM organized a retreat on Danshui Street of Huiyang District. It was attended by over 50 pastoral staff from churches and church-affiliated fellowships in Huizhou City.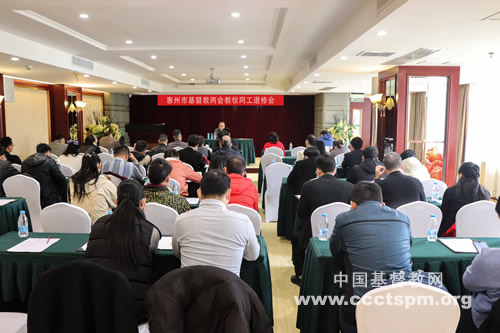 The themed symposium of the retreat was presided over by Rev. Chen Yanqun, president of Huizhou CC. Rev. Liang Ming, honorary chairman of Guangdong TSPM, delivered a sermon entitled "Characters of God's Servants and Team Building" with the verses of Romans 12. He mentioned the personal attributes and the scope of services in five aspects required as servants of the Lord, namely qualified personnel, mechanism, regulations, culture and financing. Rev. Liang also shared other messages concerning how to contribute to team buidling in a better way.
In the summary speech, Rev. Zhan Shaochu from Huizhou TSPM highly appreciated the efforts in church ministries made by all the staff members last year. He hoped that all could avail themselves of this retreat to recharge both physically and mentally, and encourage one another. At last, Rev. Zhan also exhorted the participants to be open-minded and well-informed as His servants in this new era.
(Translated and edited by Bei Sang)