On the afternoon of February 1, 2021, a team of staff members from CCC&TSPM extended their regards and offered supplies to the front-line anti-epidemic personnel of two residential neighbourhoods in Huangpu District, Shanghai, where the CCC&TSPM headquarters were located.
The four-person team consisted of Rev. Xu Xiaohong, chairperson of National TSPM, Rev. Wu Wei, president of CCC, Rev. Kan Baoping, vice chairperson of National TSPM, and Mr. Gu Mengfei, secretary general of National TSPM.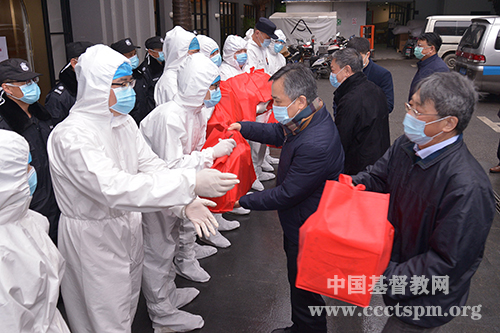 They went to Guixi residential neighbourhood and Zhaotong Road residential neighbourhood, visiting and giving regards as well as supplies to local sub-district staff members, medical workers, firefighters and volunteers.
These front-line personnel were responsible for the safety of the communities when new COVID-19 cases were found; and lockdown was temporally enforced in these areas.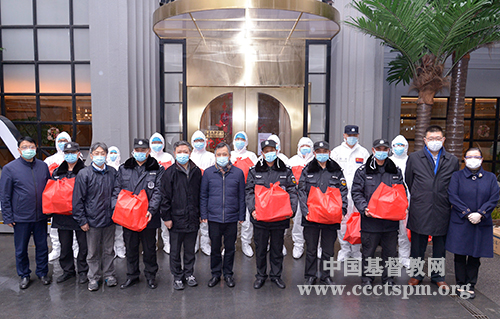 Rev. Xu Xiaohong said that since the outbreak, community volunteers have manifested the spirit of selflessness and dedicated themselves to epidemic prevention and control as well as resettlement of residents.
He said that we should learn from them as Christianity is a religion of love, and we Christians were also willing to play our part in fighting against the virus with a loving heart.
Rev. Jiang Qianli, director of Huangpu District CC&TSPM, along with others also participated in the visit.
(Translated and edited by Bei Sang)