On April 8, 2021, Inner Mongolia CC&TSPM held an ordination ceremony in Ximen Church of Donghe District, Baotou City. Rev. Wang Haitao, associate general secretary of Inner Mongolia CC, hosted the ceremony.

Eight staff members including Kang Zhaojun, Li Zhiqiang, Wang Xinde, Wang Xinzhi, Wang Zechen, Xing Tiefu, Yu Yongling (female), and Zhao Pengfei were ordained as pastors.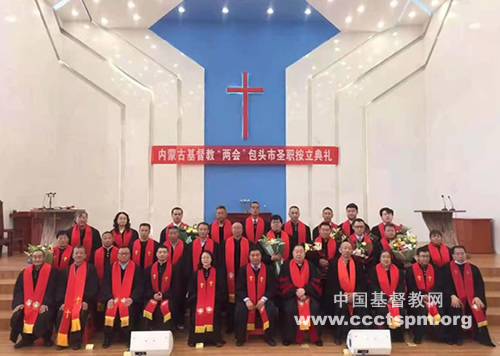 There were also twelve newly-ordained elders including Chen Dongjun, Chen Jianguo, Dong Junshe, Guo Youlong, He Rui, Jian Jiangzhen (female), Qi Mangui, Wang Fang (female), Xu Jun, Yue Shenhua (female), Zhang Rirong, and Zhao Yong.
After the laying on of hands, all newly-ordained clergy were bestowed with stoles and gifts.
Translated and edited by Bei Sang.