On the morning of March 27, 2023, a delegation from Christian Communications LTD., Hong Kong, led by General Secretary Matthew Fung and Special Consultant Thomas Tang visited CCC&TSPM. Rev. Wu Wei, President of CCC, and Rev. Shan Weixiang, Vice President and General Secretary of CCC, warmly received the guests. They had an in-depth discussion over the ministries of publication, church building, theological education and social service in the new era.
On behalf of CCC&TSPM, Rev. Wu Wei and Rev. Shan Weixiang expressed welcome toward the coming of old friends. They briefly shared their participation in China's recently-concluded "Two Sessions", and emphasized that the future of both the Chinese mainland and Hong Kong will be better.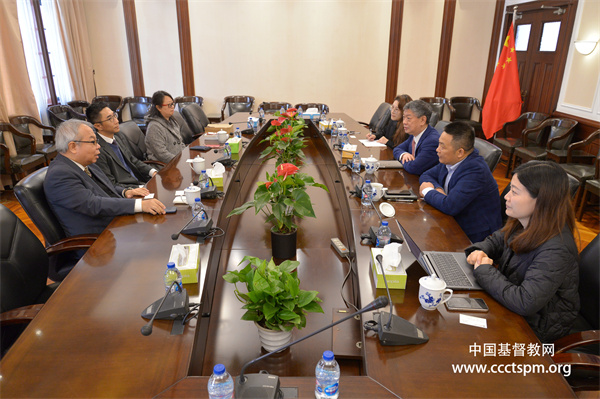 Matthew Fung and Thomas Tang introduced the personnel change in Christian Communications LTD. They said that the new leader will continue to work with mainland churches. In this fast-changing era, Christian Communication LTD will center around "reservation" and "innovation" as its two main topics. It will remain true to its principle and mission, while being innovative at work and optimizing work plans so as to adapt to new changes. Through deepening exchanges between churches in Hong Kong and the Chinese mainland, they hoped to correctly understand and support the ongoing indigenization and contextualization of Christianity in China. They also expected to see more cooperation on publication with CCC&TSPM.
Rev. Wu Wei said, the past decades saw plenty of meaningful work in publication done by Christian Communication LTD., and he looked forward to a strengthened cooperation in the future. The Church in China is making efforts to promote the indigenization and contextualization of Christianity. On the premises of upholding the ecumenical and Reformation tradition, basic beliefs, cardinal doctrines and biblical truths, we try to give proper illustrations in accordance with the progress of the times. This is our new task in the new era. He laid stress on the fact that the Church in China is willing to communicate with worldwide churches and organizations on a friendly and equal basis, learn from each other and become good testimonies to the Lord together.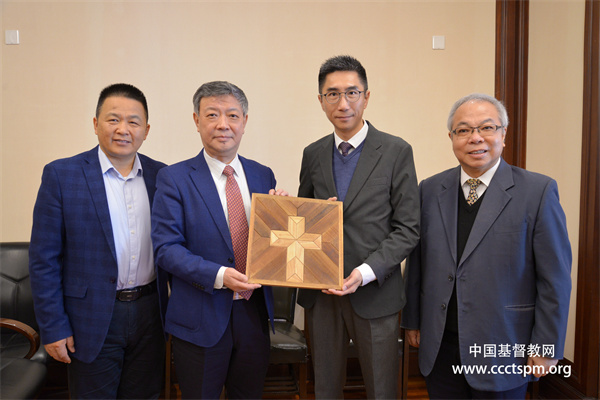 The two sides exchanged gifts and took photos together at the end of the meeting.
Translated and edited by Bei Feng, Tian Tian.