On the morning of September 22, 2023, Rev. Wu Wei, President of CCC, Rev. Kan Baoping, Residential Vice Chairperson of National TSPM, received a delegation of German churches at the headquarters of CCC&TSPM. Both sides had a dialogue over the contextualization of church and social services, etc.
Rev. Wu Wei said that churches in the two countries have the tradition of good exchange and interaction to build deep friendship. Rev. Wu especially introduced the Chinanization of the Christian Church in China and elaborated its connotations. Implementing in the context of today's Chinese society, the Chinanization takes root in the excellent traditional Chinese culture, with more measures to be taken. He also mentioned that the Church in China has cooperated with German churches in holding the China-Germany Interreligious Consultation for two times, which has yielded fruitful results. He looked forward to more opportunities to work together again in enhancing mutual understanding.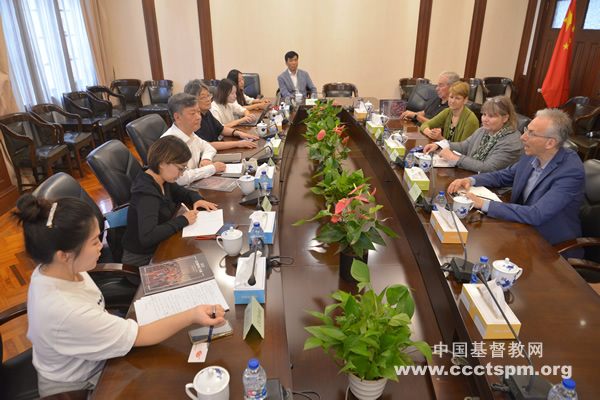 Rev. Kan Baoping welcomed the old friends' visit and expressed gratitude for their concern and assistance during the 11th Assembly of the World Council of Churches to the CCC&TSPM delegation last year in Germany. He said that in the past period of time we all were facing numerous hardships. Now as the pandemic has come to an end, we can have more cooperation and exchange. Rev. Kan also presented the ongoing main ministries of CCC&TSPM.
Rev. Ute Hedrich, Head of the Middle and the Far East, Australia and Pacific Desk of the Evangelische Kirche in Deutschland, and Rev. Dr. Eckhard Zemmrich, the theological consultant, coordinator of the volunteer team, and representative for government relations of the Evangelisches Missionswerk in Deutschland, extended thanks for the warmth and touching experience during their visits to various places and organizations in China, as well as the warm reception by CCC&TSPM. They hoped that both sides could shoulder social responsibilities with love, and further strengthen cooperation. The delegation also responded to the recommendations relating to the interreligious consultation, saying that German churches would like to work with the Chinese counterparts in preparation for the 3rd Chinese-German Interreligious Consultation.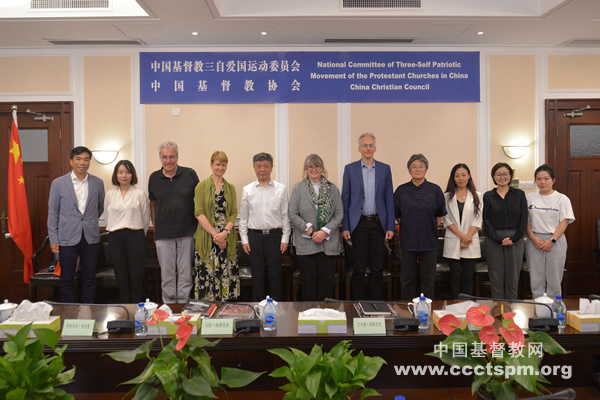 Ms. Gu Jingqin, the interim chief of Overseas Relations Department of CCC&TSPM, and other staff participated in this reception.
Translated and edited by Bei Feng.