"Dear sisters in China, I am very glad to see you... I'm 70 years old, and I like reading, sewing, helping others, and making new friends. And I'm eagerly looking forward to talking with you face to face or through letters."
Two sisters living in Yifuyuan Elderly Apartment received greeting letters, cards and photos from two sisters of Schowalter Villa Rest Home in America in spring season. The two rest homes are far away from each other with thousands of mountains and rivers between them. And the four sisters never know each. However, the sincere greetings, the authentic introductions and the honest expectations in the letter tell the Christians' Love of the communication in Holy Spirit and the fellowship in the Lord. The love from God makes all Christians one family. And the communication about church ministries both of national and of international makes "the family members" know more and learn more, and support and help each other in deed.
Greetings and expectations brought by the letter will lead deeper and happier communications between the four sisters. For the elder in rest homes, such communications are wonderful testimonies in their lives. Maybe, the letter itself is the love from God.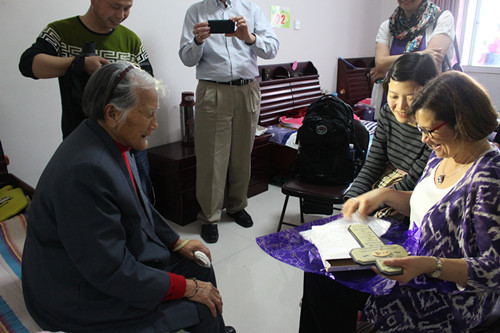 Scan a QR code to follow
——WeChat : ccctspmsfb——