Wuding county of Yunnan province is renowned as one of the poor counties, located in the most remote areas of Yunnan, near the upper Jinsha River, bordering Sichuan Province. Because of drought and water shortage, the people here have been carrying water by horses and manpower for 3 years. In order to save water, they had to use the bath water after precipitation to feed livestock and water vegetable garden. For them, water is more precious than pearl. So, they were eager to have running water and get ride of the pain of transportation.
Eventually, a drinking water project funded by CCC & TSPM and Nethersole Fund brought hopes to this county. All the people threw themselves into this project for using spring water earlier, and it happened spontaneously. Some people donated their own food and livestock to the project construction; some technicians working in the field returned home to contribute their technology; some project leaders didn't fear the hardship, worked tirelessly, and lived in the mountains for four to five months. More steel pipes are installed, more hopes people will have.
At conclusion of the project, the number of beneficiaries increased from an estimated 789 to more than 1,500. During this period, a total of 16 villages invested with their labor. At the celebration ceremony, people cheered together, deserved their thanks with sincere and determined to treasure this hard-won gains.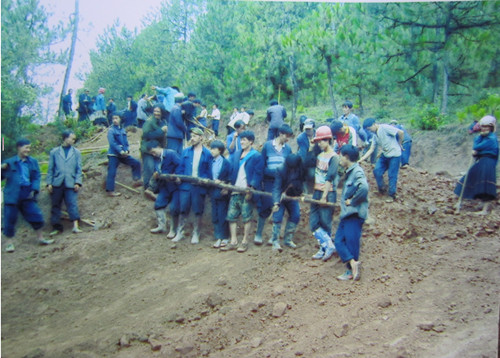 Scan a QR code to follow
——WeChat : ccctspmsfb——