History: Shaanxi Bible School is run by Shaanxi CC&TSPM with a history that can be trace back to 1983, when it was established as the Clergy and Layperson Training Class at Dongguan Church of Sanyuan County, Shaanxi Province.
In March 1988, it became Shaanxi Bible School, offering three-year college program in theological education. In December 2007, it upgraded to a religious college school with four-year program. The Bible school is based in Shaanxi Province and also opens to the Northwest of China.
Leadership: Wang Hong now serves as the president, and Chen Dingliang and Yang Haitao as the vice presidents.
Curriculum: The Bible school provides four-year college programs and enrolls new students every two years. Additionally, it has an annual one-year training program called "Enhancement Training for Main Ministers of Shaanxi Churches". The curriculum includes 23 general courses and 62 specialized courses.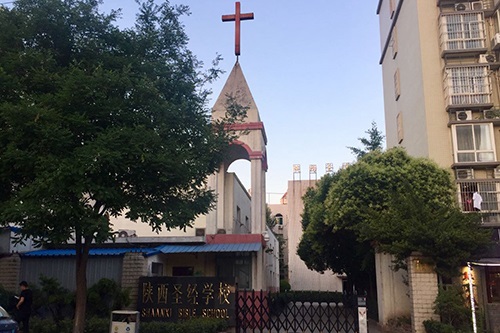 Faculty team: The Bible school has 12 full-time teachers, including one PhD candidate, nine with master's degrees (two of whom hold dual master's degrees). There are also 11 part-time and visiting professors responsible for teaching general and cultural courses. Eight of them are professors, researchers, and associate professors; three are graduate students.
Book Collections: The library of the Bible school has a collection of over 40,000 books, and it subscribes to more than 20 types of newspapers, periodicals, and magazines.
Students and Graduates: The Bible school now owns nearly a hundred enrolled students, who are from Shaanxi, Shanxi, Gansu, Qinghai, and Xinjiang. There are approximately 60 students in the college program and 40 students in the training program. Since its establishment, the school has graduated 12 cohorts of theological students (seven cohorts from the junior college program and five cohorts from the college program), totaling over 530 people. Most of the graduates return to serve in churches, while some further their studies at Nanjing Union Theological Seminary.