History: Hebei Bible School is a secondary Christian school held by Hebei CC&TSPM. In 1995, the predecessor of the Bible school Heibei Christian Training Center was opened. It began to offer a one-year layperson training course in 1997, and in 2001 opened a two-year theological college program. The training center was renamed Hebei Bible School in 2007, since when a three-year theological college program was offered. In 2010, the Bible school was confirmed as a three-year secondary Christian college.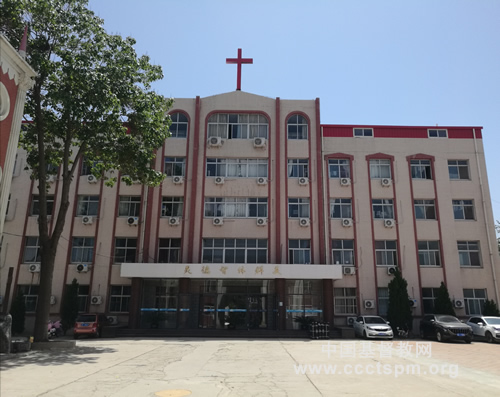 Leadership: Jin Yunpeng serves as the current president. Its non-residential vice presidents are Liu Yuwen, Cheng Baoshan and Chen Yanguang. Zhang Shuyan and Luo Chengzan (responsible for academic affairs) serve as the residential vice presidents.
Curriculum: The courses include ideological and political theory, social science and culture, systematic theology, Biblical theology, historical theology, practical theology, and sacred music. In recent years, apart from full-time programs, the school also organizes short-term training courses such as backbone training for pastoral workers, advancement training for elders and rotational training for lay preachers.
Faculty: Currently, the Bible school has 21 full-time teachers, including one doctor, one doctoral candidate, and ten masters. There are 14 guest teachers, including one doctor, three masters, four professors, and one with senior professional title.
Book collection: The school's library is under information management. With a collection of 25,000 paper books, two thirds are Christian books and the rest are social science books. It has nearly 3,000 English books and Chinese periodicals, as well as nearly 10,000 e-books. In recent years, the collection has annually increased by around 2,000 books.
Students and Graduates: Currently, there are more than 100 full-time enrolled students. About 1,200 students have graduated from the Bible school, and 520 of them have graduated since 2010.