On the morning of 3rd November, decorated with colorful flags, Yuguang Church in Dalian, Liaoning Province gathered numerous people to celebrate its 90th anniversary ceremony.
The ceremony began with the call of 'Make a joyful noise to the Lord. Worship the LORD with gladness; come into his presence with singing......For the LORD is good; his steadfast love endures forever, and his faithfulness to all generations' from the verses in Psalms 100. Rev. Zhang Yuezhu, President of Liaoning Provincial Christian Council, Rev. Xu Wenmei, Vice-President of Liaoning Provincial Committee of Three-self Patriotic Movement and Rev. Hou Yujie, President of Yingkou City TSPM read the Scriptures. Then, Eder Shi Aijun, President of Liaoning Provincial TSPM and Principal of Northeast Theological Seminary gave a sermon titled 'Zacchaeus's Repentance'. He exhorted believers to bear in mind the teaching from the Bible, to be humble, repent and resist to temptation all the time, love country and love church, and be self-disciplined and obedient.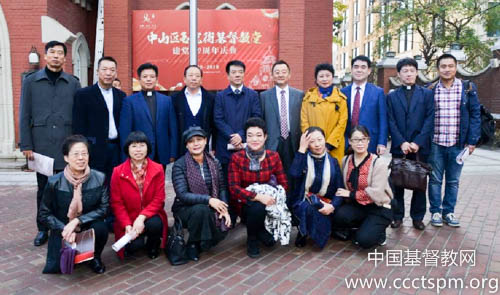 Yuguang Church (formerly the Anglican Church for British Consulate in Dalian) is located at NO.2 Yuguang Road, Zhongshan District, Dalian. In 1924, it was built by British Consulate (which was to the north of the church) and designed with a Gothic style by German architecture Williams. On 6th May, 1928, Yuguang Church held a solemn and grand groundbreaking ceremony. With several months' efforts, it was finished on 15th October and held a Holy dedication ceremony on 4th November. At that time, it was governed by the northern Chinese Anglican Church.
In December 1941, when the Pacific War broke out, Japanese army began to expel the British, American and German residents in Dalian. All British residents in Dalian returned to their motherland. Therefore, Yuguang Anglican Church had to end all activities completely by the end of 1942. The church was once used by Japanese church in 1943 and then by Soviet Union. It had not been reused by Chinese people until the founding of People's Republic of China in 1949. It firstly had been converted into a Children's Palace (a place where children can engage in extra-curricular activities) which helped cultivate children to develop in an all-round way. In November 1986, the policy of freedom of religious belief enabled Dalian City CC and TSPM to take charge of the church. In 1987, the reopening service was held at the renovated church, and since then its ministries began to flourish and gradually made great progress. In 2003, it has been officially recognized as key cultural relics to be protected and a major religious venue in Dalian by Dalian People's Government. At present, it is one of the major religious sites with nearly ten thousand believers in town.