On October 22, 2019, Rev. Shen Xuebin, vice president of China Christian Council (CCC) received a delegation led by Rev. Paul Kong, office director of Global Ministries in Asia and Pacific region for the United Methodist Church in the USA. The two sides had an in-depth exchange, wishing to promote future cooperation.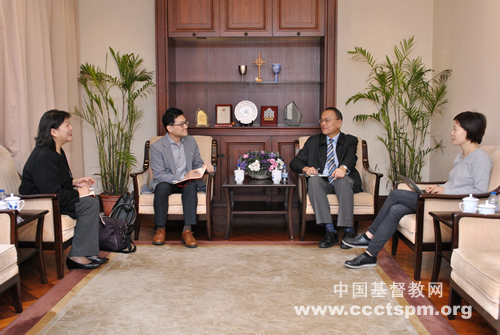 Rev. Shen extended welcome to the delegation. He pointed out that though great developmental achievements in the Chinese society have been made by reform and opening up policies, there still exist some poverty-stricken areas. The government is endeavoring to tackle poverty in an effort of building a moderately prosperous society in all respects.
As a part of the society, the Church in China responds to government's call through implementing social services within its capacity. Rev. Shen said that the Social Service Department of CCC&TSPM is actively carrying out public charity ministries via skill trainings and projects implementation.
Rev. Paul Kong mentioned the cooperation between the United Methodist Church and Amity Foundation in social service ministries, and expressed the willingness to deepen further discussion and exploration of coordination with CCC&TSPM.
Rev. Shen also introduced the process of uniting the churches in China and the harmony among different religions in China. Rev. Paul Kong appreciated the unity which follows Biblical teachings, and also invited CCC&TSPM to attend the conference held by the United Methodist Church in the USA next May.
Ms. Liu Ruhong, assistant of Asia Program for the United Methodist Church in the USA, accompanied the delegation. Ms. Zhou Xiaoyan and Ms. Yang Chengcheng, staff members from Overseas Relations Department of CCC&TSPM participated in the reception. The two sides ended the meeting in an amiable and friendly atmosphere.