On the morning of August 16, 2020, Shandong CC&TSPM had an ordination in the Center Church of Shan County.
Rev. Wang Mengkun, general secretary of Shandong CC&TSPM gave a sermon entitled "The Secrets of Walking toward Heaven" . He cited the verses of the Book of Hebrew to enlighten the congregation with four secrets of walking with the Lord: unloading burdens of all sorts, throwing off sins that cling, run the race set out for us with perseverance, and looking to Jesus, the source of our faith.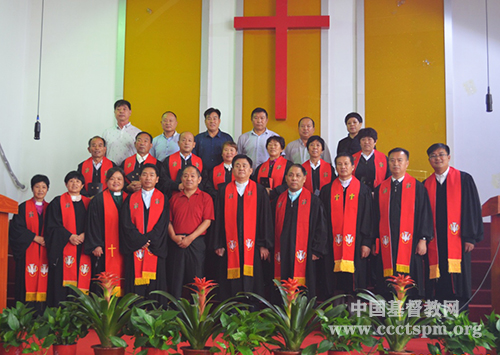 The ordaining pastors performed the laying on of hands for eight fellow workers. They ordained Yin Qizhao as pastor, Ye Tigeng, Gao Zhili, Li Liangmin, Zhang Shurong (female), Zhu Xiuyun (female), Wang Chunping (female), and Miao Qingrong (female) as elders, and gifted them with Bibles and stoles.
Over 150 people from Shan County, Juancheng County, Chengwu County came to witness this moment. The ordination ended up with the benediction given by Rev. Yin Qizhao.
(Translated and edited by Bei Sang)