On December 27, 2020, Jiangsu CC&TSPM held an ordination ceremony in the Church of Huaiyin District, Huai'an City. 27 staff members were ordained. President of Jiangsu CC Rev. He Jiemiao hosted the ceremony and delivered a sermon.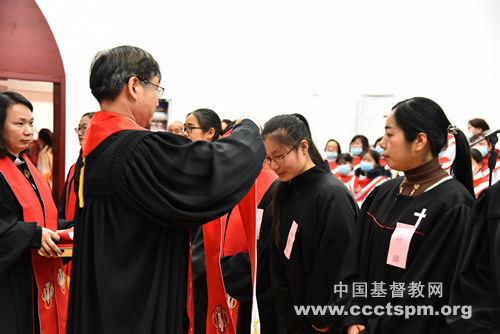 Nine newly-ordained pastors were Dong Xiaoya (female), Li Guangzhen (female), Liu Enhui (female), Sun Xuemei (female), Xiang Yongxia (female), Xue Lu (female), Yang Shoujuan (female), Zhou Qingmei (female), and Zhu Shuhui (female). Five that were promoted to pastors included Cheng Fengyu, Wang Shiguo, Wan Mei (female), Wu Jun and Zhu Linjia (female).
13 staff members were newly ordained as elders, including Chu Hongling (female), Kai Liangjuan (female), Liu Guihong, (female), Liu Lihua (female), Pan You'en, Sun Suqin (female), Wang Yunshu, Zhang Haixia (female), Zhang Linyan (female), Zhang Zhaosheng, Zhu Guoliang, Zhu Hong (female), and Zhu Zhengquan.
On the same day, Jinagxi CC had its annual ordination ceremony in Gospel Church, Anji City. Four staff members were ordained, namely You Bin and Yu Wenhui (female) from Gospel Church, Cao Yunfang (female) from Zhouxi Church of Duchang County, Jiujiang City, Zhong Liang from Jireh Church of Fenyi County, Xinyu City.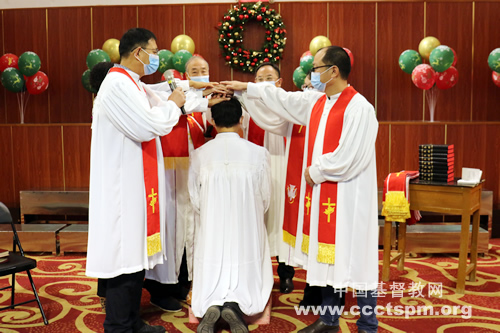 The newly-ordained clergies recognized their role as God's priests from His call, and realized their duties of shepherding God's flock, serving with piety and offering themselves for the Lord.
(Translated and edited by Bei Sang)