On the morning of April 20, 2021, Associate General Secretary of CCC Rev. Lin Manhong, and Ms. Gu Jingqin, interim director of the Overseas Relations Department, attended a zoom conference with their counterparts of the Asia Pacific Forum. Participants from eight member churches and organizations of APF were present at the meeting. They respectively shared the situations of their churches after the pandemic outbreak, and focused on how to deepen the dialogue between each other.
Rev. Lin Manhong and Ms. Gu Jingqin introduced main ministries carried out by Chinese churches during the outbreak, and also mentioned the pastoral care challenges facing Chinese churches in the period of regular epidemic prevention and control.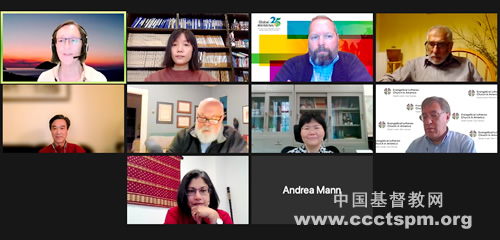 Participants of North American churches also shared the situations of theirs, and referred to several social issues including hate and discrimination against Asians and Asian Americans, vaccine equality, etc. The two sides hoped to take advantage of video conferencing to strengthen exchanges, and that ministry exchanges could be resumed as soon as possible if the pandemic ends.
Asia Pacific Forum consists of leaders of ministries for Asia Pacific of ten mainstream American and Canadian churches, and it adopts rotating leadership to lead the ministry of each year. Over the past two decades or so, the organization has been maintaining a good rapport with CCC&TSPM as well as the Amity Foundation, and have carried out multiple ministry exchanges and cooperation, during which it provided enormous support for theological education and social services.
Translated and edited by Bei Sang.