On the evening of October 12, 2021, Hangzhou CC&TSPM held an ordination ceremony in Sicheng Church, Hangzhou City, Zhejiang Province. 14 staff members were ordained as pastors and elders.
The ceremony was hosted by Rev. Pan Xingwang, chairperson of Zhejiang TSPM. The choir of Sicheng Church performed the hymn "Learning to Become a Good Shepherd". Rev. Shan Weixiang, president of Zhejiang CC cited verses and stories of the apostles from the Book of Acts and the Book of 2 Timothy, exhorting the soon-to-be pastors and elders to handle challenging situations like disagreements and controversies with patience and perseverance when serving in the church.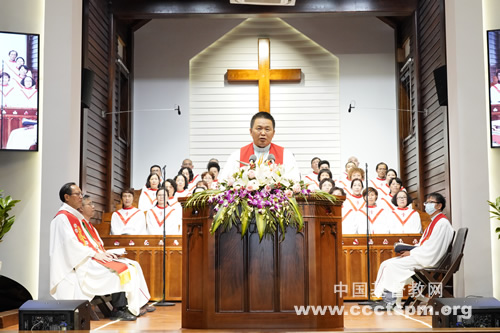 Eight were ordained as pastors, including Li Enlin from Sicheng Church, Pan Meifang (female) from Jiande, He Jia'en and Ma Sai (female) from Linping District, Yang Laixing, He Li (female) and Chen Guihong (female) from Xiaoshan District, and Ma Fuyin (female) from Qiantang District.
Another six staff members were ordained as elders, namely Zhu Chunxiao from Gulou Church, Zhu Baowen from Sicheng Church, Wang Qinxian (female) from Sandun Gospel Church, Ma Xuetao from Linping District, Zhou Rongguang and Yao Juxian (female) from Yuhang District.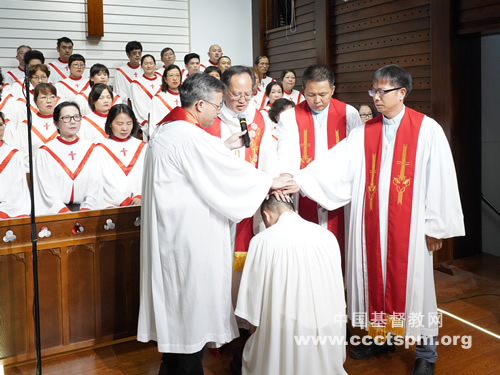 The ordination group performed the laying on of hands and ordained the staff members as pastors and elders in the name of the Father, Son and Holy Spirit. They also prayed for the new pastors and elders to become clean and faithful as His good shepherd.
The ordination is important to the churches in Hangzhou as it brings new blood to the churches, with more servants pleased by God coming to feed His flock.
Translated and edited by Bei Sang.