On the afternoon of September 8, 2023, Rev. Wu Wei, President of CCC, received a South Korean delegation led by Pastor Lee Young-hoon, President of the Korean-Chinese Christian Fellowship. Mr. Gu Mengfei, Secretary General of National TSPM, Ms. Gu Jingqin, the interim chief of CCC&TSPM's Overseas Relations Department and other staff participated in this reception. During the meeting, both sides discussed on cooperation and exchanged ideas over the Chinanization of the Christian Church in China, academic research, social culture, and so forth.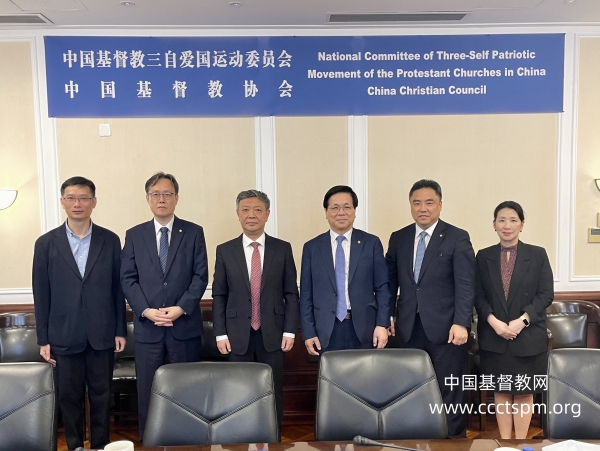 Pastor Lee Young-hoon began by saying that the purpose of this visit was to continue the friendly connection with CCC&TSPM and enhance mutual understanding between the churches in both China and South Korea. It was also expected to have an in-depth discussion with Chinese church leaders and scholars to explore the methods that Christianity would adopt to positively influence the course of national development in the future.
Rev. Wu Wei stressed that CCC&TSPM highly valued the visit of the Korean-Chinese Christian Fellowship, and he hoped to further promote the good interaction between the churches in the two countries. The Church in China upholds the principle of self-reliance and self-governance, and emphasizes mutual respect, equality and friendliness when interacting with overseas churches, including the respect for their social context, and in this regard, the Korean-Chinese Christian Fellowship has shown fully understanding and respect towards us.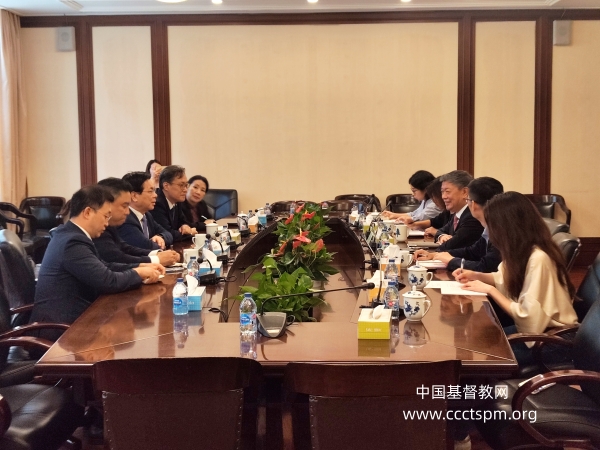 For historical reasons, although the time when Christianity was introduced to China and South Korea is not far apart, there exists a difference in the perception of Christianity among the people of the two countries. The Church in China is working on promoting the Chinanization of the Christian Church in China and endeavoring to remove the foreign image of Christianity in the Chinese society. Jesus Christ is not only the blessing of individuals and churches, but also the blessing of nations and countries. The Church in China should find its own way to bear witness to the grace of Jesus Christ, so that our churches can become more adaptive to our society and a force of social development in a positive and progressive way. We also expect a stronger dialogue with the churches in South Korea in the future, with more cooperation and deeper friendship.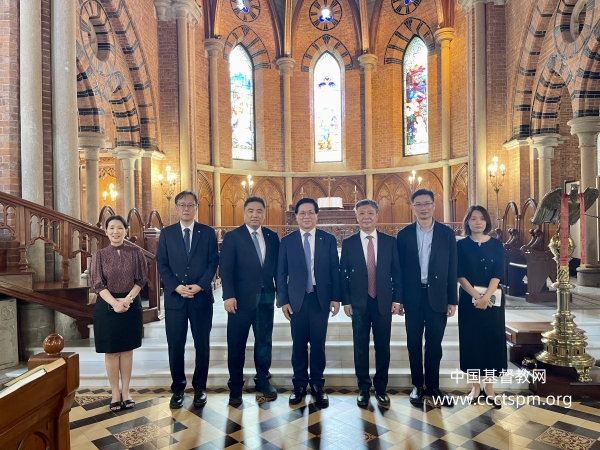 Pastor Lee Young-hoon fully understood and respected the situation and principle of the Church in China. South Korea now has 5,800 churches, and has a vision of church unity. Pastor Lee hoped to visit China again in the future with representatives of different denominations of Christianity and scholars in South Korea, to conduct academic research with representatives of Chinese scholars and church leaders. It is believed to achieve fruitful results.
After the meeting, the delegation also visited the Holy Trinity Cathedral and the Grace Telling Bookshop.
Translated and edited by Bei Feng.