On March 8, 2019, the Amity Foundation signed a Memorandum of Understanding with the office of the United Nations High Commissioner for Refugees (UNHCR) in Beijing to strengthen cooperation on humanitarian relief.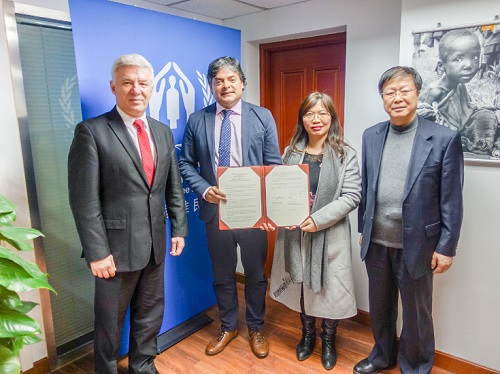 At the signing meeting were Sivanka Dhanapala, country representative of the UNHCR, Rudelmar Bueno de Faria, General Secretary of ACT Alliance, Amity Foundation Board Chair Mr Qiu, and General Secretary Ling Chunxiang.
In the future, Amity and UNHCR will make joint efforts in protecting the rights and interests of displaced people as well as other persons of concern and further delivering relief and humanitarian assistance globally.
The history of Amity starting humanitarian relief can be traced back to the year of 1987.
Till now, Amity has carried out the work of humanitarian relief both home and abroad, extending its footprint in many overseas countries including Nepal, Ecuador, Ethiopia, Sri Lanka, and the Philippines.
(The news and photos are sourced from the Amity Foundation. The original context is available at https://www.amityfoundation.org/eng/)