On April 25, 2019, Justin Welby, Archbishop of Canterbury paid a visit to Shanghai Enguang Nursing Home run by Shanghai CC&TSPM. Other visitors included the Archbishop's wife Ms. Caroline, Bishop of Birmingham David Urquhart, and Mr. Stephen Knott, assistant Chief of Staff for Archbishop of Canterbury.
Rev. Xu Yulan, chairman of Shanghai TSPM, Rev. Geng Weizhong, president of Christian Affairs Committee in Shanghai, together with Mr. Cai Weiwei, president of Enguang Nursing Home warmly received the guests.
The Archbishop felt gratitude for visiting the nursing home. He mentioned that senior care is an important ministry in Britain.
Due to the low fertility leading to a rising rate of aging, and the massive population migration caused by industrialization and economic development, senior care is becoming challenging for every individual.
The Archbishop believed that such common problem deserved both China and Britain to know and learn from each other.
Ms. Cai Weiwei introduced the guests the information concerning the nursing home's organization structure, personnel allocation and types of care provided in Enguang Nursing Home.
Cai stressed that the nursing home is concerned and aided by Shanghai CC&TSPM and the churches in Shanghai.
After the meeting, the guests visited the Enguang Nursing Home and chatted with the elderly living in the nursing home.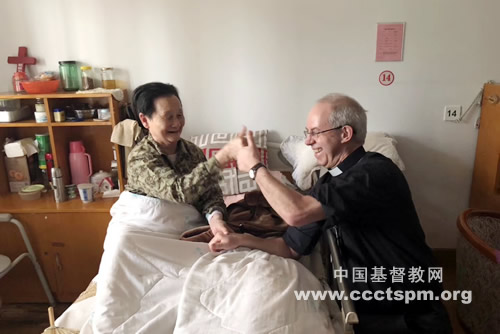 At last, the two sides exchanged gifts.