From August 8 to 12, 2019, 113 pastors and staff members from 12 cities and counties of Inner Mongolia came to Hohhot to attend "The Fourth Inner Mongolia Christianity Preaching Exchange and Seminar on the Indigenization and Contextualization of Christianity in China", hosted by Inner Mongolia CC&TSPM and organized by Hohhot CC&TSPM.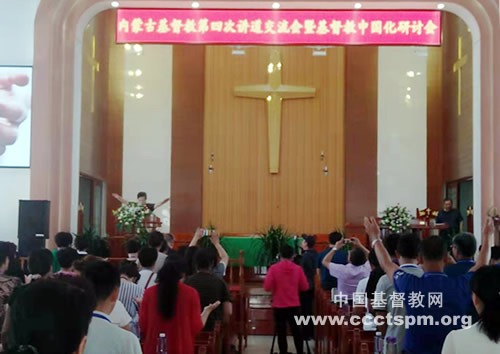 In the preaching exchange, 23 outstanding clergies selected by Inner Mongolia CC&TSPM gave sermons on the theme of "Love country and love Church, Preserve Green and Ecological Homeland".
The opening ceremony was held on the morning of August 9 in Shuntong Street Church in Hohhot.
Rev. Zhu Junwei spoke on "Learning our responsibilities from God's creation", raising the awareness of environmental protection from the perspective of faith and emphasizing the duty, responsibility as well as mission for each and every Christian to protect our homeland.
In the afternoon, a hymn meeting was held in the church.
On the following two days, 113 pastors and staff members in 12 groups visited 12 churches both in the center and suburb of Hohhot. They exchanged ideas based upon personal spiritual and serving experiences. During the visit they encouraged one another, shared with one another, cared for one another, and reviewed their paths of faith and original aspirations.
On August 12, reports were given in groups. Participants shared what they obtained from the exchange and put forward ideas and suggestions, creating the connection among the churches in Inner Mongolia, so that they can achieve mutual progress via exchanges and learning from one another.
In the afternoon, 12 groups gave final speeches respectively at the closing ceremony.
The exchange ended up successfully with the benediction given by Rev. Xie Baohua.