On October 15, 2019, Rev. Kan Baoping, vice chairman of National TSPM received a three-person delegation led by Venerable Godfrey Stone from Friends of the Churches in China. The two sides exchanged ideas in terms of theological education and social service ministries.
Rev. Kan Baoping extended welcome towards the delegation. He first recalled the friendly exchanges between the two sides, and introduced the basic situation and development features of the Church in China.
Afterwards, Rev. Kan mentioned the recent riots in Hong Kong SAR, and pointed out that some people in Hong Kong churches go against Biblical teachings and that their acts worsen political instability in Hong Kong.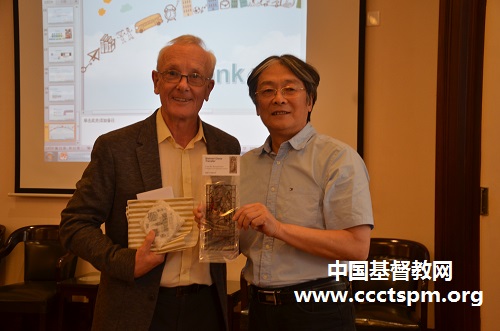 He reiterated the principles of overseas exchange of the Church in China, and hoped that the Church in Britain could pray for the safety and stability in Hong Kong together with CCC&TSPM.
Venerable Godfrey Stone responded that Friends of the Churches in China respect and value the long-term corporation with the Church in China, expecting to maintain the friendship between the two sides.
At the meeting, staff members from Social Service Department shared the ongoing social service ministries with the guests. The two sides also had a dialogue regarding layperson training and other social service topics.
At last, both sides wished to deepen mutual understanding through this friendly and sincere exchange. They pray and bless the churches in these two countries.