On November 26, 2020, an opening ceremony of Aiyoupin Faith, Hope & Love Health Center was held in Jinan City, Shandong Province. The newly-founded center is a service center for the disable. Over 60 people partook in the ceremony, including Rev. Gao Ming, chairman of Shandong TSPM and board chairman of the disability services center, staff members of CC&TSPMs in the province, as well as all the service center staff.
Before the ceremony, Rev. Gao Ming led the prayer. Sister Zhan Yuzhi, director of the service center, hosted the ceremony. Brother Zhang Quan made a welcome speech.
Afterwards, Rev. Gao Ming and Mr. Zhao Keyu jointly unveiled the nameplate of Faith, Hope & Love Health Center. They also shared a few words with the audience.
Rev. Gao said that over these years Shandong CC&TSPM had long been making efforts in social services, with the purposes of running the church well and serve the society. It has played its parts of helping open 22 elderly homes in the province. In 2016, with the support of Jinan CC&TSPM, Shandong CC&TSPM began to take over the Faith, Hope & Love Center for Disability Services. Since then, it has been managing to improve service skills as well as expand services in scope via actively recruiting teachers, introducing resources, and opening training courses.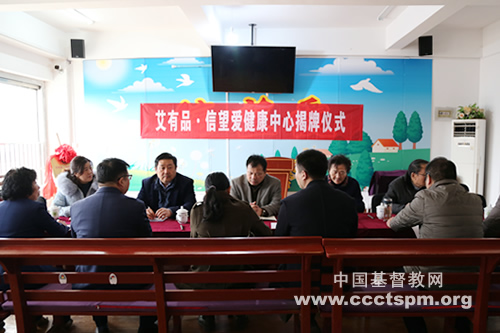 Till now, the health center can provide TCM physiotherapy for autism sufferers, as a new attempt of further promoting treatment outcomes.
Later, there was a symposium on how to steadily carry forward the charity ministries. Vice board chairman Zhang Quan said that the action of love would continue to shoulder social responsibilities and missions. He hoped that the public image of doing charities could attract more caring people to come and join in the philanthropy.
The ceremony ended up successfully with a prayer and benediction.
(Translated and edited by Bei Sang)