On August 25, 2023, Rev. Shen Xuebin, residential Vice President of CCC, received a three-member delegation from the Friends of the Church in China led by Venerable Godfrey Stone. The two sides exchanged ideas on social service, pastoral care for the elderly, etc.
Rev. Shen Xuebin first recalled the friendly interaction between the two sides. He then gave thanks to the Friends of the Church in China for their support in social service ministry for Chinese churches, especially the assistance and encouragement during the outbreak of Covid-19.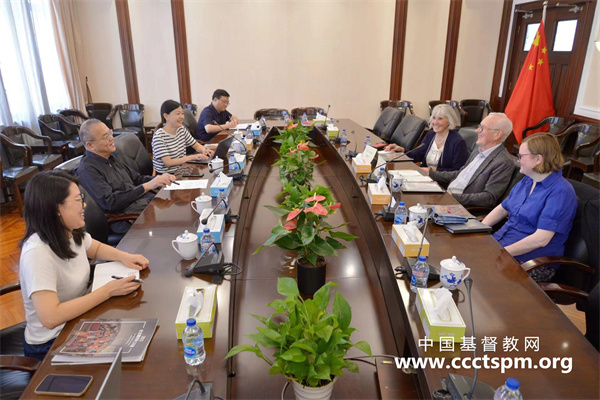 Venerable Godfrey Stone said that the Friends of the Church in China attaches great importance to the long-term cooperation with the Church in China. They also brought the greetings from the Archbishop of Canterbury. Next year, the Friends of the Church in China will celebrate its 40th anniversary. Venerable Godfrey Stone expected to maintain the mutual friendship, and sincerely invited CCC&TSPM to visit the UK.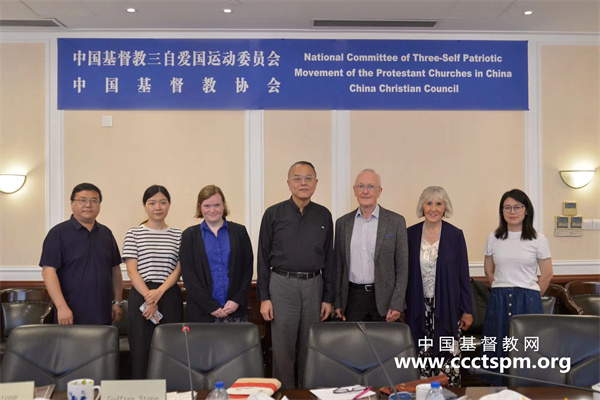 In the meeting, staff members from the Social Service Department of CCC&TSPM shared about CCC&TSPM's ongoing social service ministry. The two sides engaged in a dialogue on specific programs, such as HIV prevention training, pastoral care for the elderly, and so forth.
Finally, the two sides took group photos in an amicable and fervent atmosphere. In the following month, the delegation will visit many cities and churches in China, in order to further their understanding of the ministries of Chinese churches, as well as to continue and deepen mutual friendliness.
Translated and edited by Bei Feng.