On the morning of 23rd October, 2018, a fifteen-member delegation from the Outreach Foundation of the Presbyterian Church (USA) visited CCC&TSPM. Rev. Dr. Lin Manhong, Associate General Secretary of China Christian Council received the delegation.
In the meeting, Rev. Dr. Lin said that the Presbyterian Church in the USA is an old friend to the Church in China and maintained a close relationship with each other. She stressed that this year marked the 40th anniversary of the reform and opening-up policy, which we were very grateful. The change and development made by the Church in China was because of the leading of God as well as government support. Rev. Dr. Lin introduced the basic work of CCC&TSPM to the guests who paid their first visit, especially the ongoing ministry of developing Christianity in Chinese context. She hoped that both sides would continue the cooperation on the basis of sincerity, openness, equality and legality.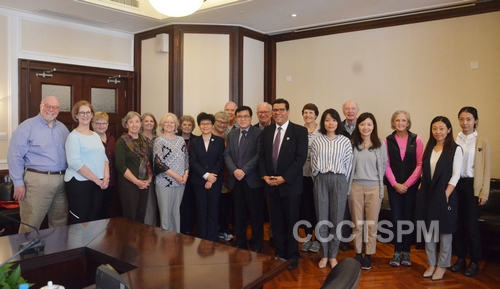 Rev. Juan Jose Sarmiento, Associate Director of the Outreach Foundation said that they took the opportunity of participating in the 20th Anniversary of Jiangsu Theological Seminary to visit CCC&TSPM as well as other churches in China, and saw it as a fruitful trip for learning the new progress of the society and the church in China. He hoped to better promote and strengthen bilateral relationship and discuss ways of further cooperation and exchange. Afterwards, Nancy Fox, Chair of the Board of the Outreach Foundation introduced their major ministries. Choonshik Lim, Regional Liaison of the PC (USA) also expressed their willingness to deepen the cooperation between both sides in social service and other areas.
The two sides also exchanged ideas regarding issues like training, media ministries and overseas exchange of theological graduates. Gu Jingqin, Chief of Overseas Relations Department and other staff participated in this reception.