9:30 in the morning, on 6th September, 2018, Shanghai Muen Church gathered a great number of church staff and believers both at home and abroad, whom came with the senses of respect and sorrow to attend the memorial service for their revered Elder Fu Xianwei.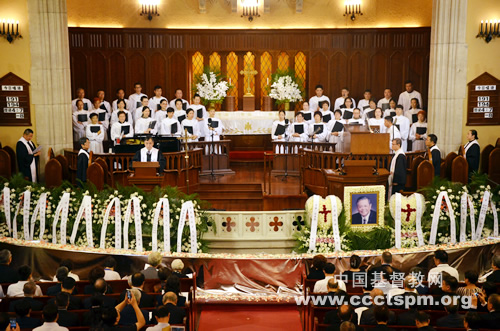 The memorial service began on time with the prelude played. Rev. Xu Xiaohong, Vice Chairperson and Secretary General of the National Committee of Three-self Patriotic Movement of the Protestant Churches in China presided the service, with Jiang Qianli, Senior Pastor of the church praying and Chen Yilu, Executive Vice President of Nanjing Union Theological Seminary, reading the verses from 4: 7-8 in the Book of Timothy 2. Rev. Shan Weixiang, Vice President of China Christian Council, gave a sermon titled with 'Kept the Faith'. He mentioned that Elder Fu Xianwei kept his faith with firm conviction and manifested his faith through diligence and pragmatic attitude. We shall take him as our role-model to continually work for our churches with a devoted heart.
Rev. Kan Baoping, Vice President and General Secretary of China Christian Council, was responsible for telling a brief biography of Elder Fu Xianwei.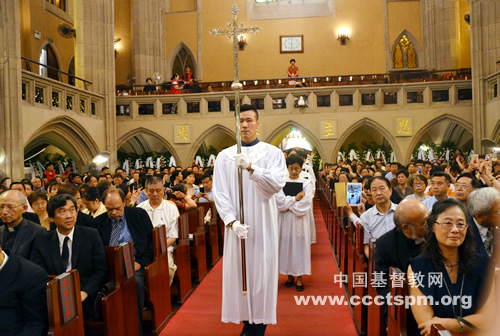 In the memorial service, Canon Rev. Peter Koon from Hong Kong Sheng Kung Hui, Cai Weiwei, from Shanghai CC&TSPM, followed by Gu Mengfei, Associate Secretary General from the National Committee of Three-self Patriotic Movement of the Protestant Churches in China, all presented to share their stories about Elder Fu Xianwei with the audience. Rev. Koom described Elder Fu as amiable and approachable. He did everything in person as he was reluctant to bother others; He was very attentive to church staff and put their needs and interests first. Elder Fu deserved reverence for devoting his whole life to the churches. Church staff Cai Weiei and Gu Mengfei respectively recalled their memorable working moments with Elder Fu, which pictured Elder Fu with an image of being painstaking and conscientious. For instance, Elder Fu took lead in blood donation and was concerned with the council all the time no matter when he worked for Shanghai CC& TSPM or the national CC&TSPM. Upon listening to these stories, all the attendees were deeply touched in the memorial service.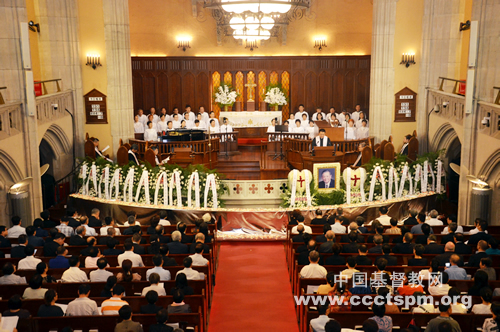 Rev. Lin Manhong, Associate General Secretary of China Christian Council read the condolence letter from the United Front Work department of CPC central Committee, and also announced the list of 97 pieces of condolence letter received, including the national religious groups, the National Council of YMCA&YWCA of China, provincial CC&TSPMs and Theological Seminaries, along with some municipal YMCA and YWCA, churches from countries and regions like the United States, the United Kingdom, Australia, Hong Kong SAR and Taiwan Province. Others came from some institutions and individuals.
Then, Elder Fu's daughter addressed gratitude remarks, from which she fondly recalled her father a faithful life serving Lord and His churches. She also showed her gratitude to all church staff and believers there for attending the memorial service.
In the end, Rev. Gao Feng, President of China Christian Council, blessed the audience, and the audience sang the hymn God Be With You Till We Meet Again together.