On 25th October, 2018, a three-member delegation from The Outreach Foundation (TOF) in the USA led by Associate Director Juan Jose Sarmiento visited Shandong CC&TSPM.
After the delegation visited the Seminary Chapel, the Distribution Department and the library, a meeting on the topic 'Cultivate Talents and Run the Church Well' was held in the conference room. Rev. Li Hongyu said that there are millions of church members in Shandong Province and that theological education ministry is of extreme importance in order to solve the problem 'The harvest is plentiful while the laborers are few'. Shandong Theological Seminary shoulders the responsibility of cultivating qualified talents that can keep up with the times for the whole province. To satisfy the need of cultivating talents for the church in Shandong, it is urgent to boost the construction of a new campus.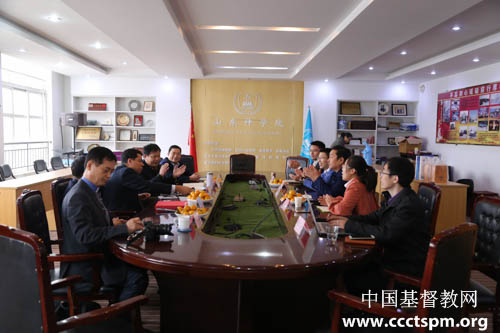 In the meeting, Rev. Gao Ming pointed out that the provincial CC&TSPM is the church of the Lord and the body of Jesus. Aiming at 'Running the Church Well and Serving the Society', the provincial CC&TSPM provides services for the whole province in terms of theological education, preaching of theological thinking, publication and distribution, church aid and support, social service and so forth. Shandong is doing particularly well in talent cultivation. In the past five years, Shandong CC&TSPM sent fourteen staff to pursue their doctorate degrees. Among them, Rev. Li Hongyu already completed his study. In order to cultivate talents for advanced academic studies and theological education, Shandong CC&TSPM founded the "Qilu Theological Research Center", becoming the top institution of theoretical study and talent cultivation for the church in Shandong.
Choonshik Lim, the regional liaison of the Presbyterian Church (USA) gave thanks to the provincial CC&TSPM for the warm reception and the thorough introduction to church work. He was also amazed at the accomplishments in the aspect of talent cultivation. Juan Jose Sarmiento also introduced recent ministries of The Outreach Foundation, and expressed the willingness to establish a long-term friendly cooperation with the church in Shandong.
At last, both sides took photos together.