On the morning of July 28, 2021, Rev. Shen Xuebin, vice president of China Christian Council, had a virtual meeting with Rev. Sharon Hollis, the newly-elected president of the Uniting Church in Australia, as well as other staff members. Those who attended the virtual meeting shared what's happening to their churches and the challenges they had to cope with.
Rev. Mark Kickett, the Acting Chair of the Uniting Aboriginal and Islander Christian Congress led a prayer before the meeting.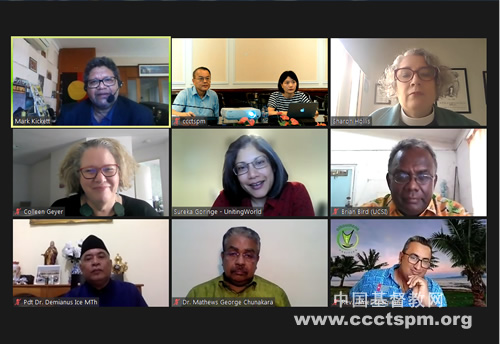 On behalf of CCC&TSPM, Rev. Shen Xuebin firstly extended regards to the UCA, and congratulated Rev. Sharon Hollis on taking up the position of UCA president. During the meeting, Rev. Shen introduced the present situation of the Church in China that had resumed worship services with anti-epidemic measures effectively taken. He also mentioned the challenges facing the Church in China including the decline in church membership, the exploration of better pastoral guidance to young Christians about the devotion to God, etc. Rev. Shen said that the pandemic could only disrupt face-to-face interactions but not the friendship between CCC&TSPM and the UCA. An ageing Chinese society requires Chinese churches to play their part in social services as well as other spheres. We knew that the Australian counterpart had rich experiences in social services. We prayed that the pandemic would end soon and hoped to see more mutual visits and exchanges with each other in the future.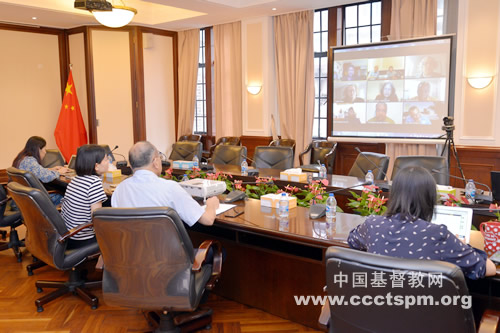 Rev. Sharon Hollis was delighted to communicate with CCC&TSPM virtually so that the two sides could learn about the situations of these two churches. During the virtual meeting, she shared the challenges confronted by the UCA as well as its member churches. Rev. Mark Kickett introduced the work of aboriginal residents and their challenges. All participants reached the consensus that churches shall seek common ground in discrepancies.
The virtual meeting ended with the prayer by Rev. Sharon Hollis.
Translated and edited by Bei Sang.